Samsung TV Dubai – Home, Commercial, Hospitality LED / LCD
There are a good number of TV manufacturers out there, some of which are very popular and producing ultra-high resolution sets [UHD ] while others which are less popular are probably focused on the regular or more common display sets.
Televisions were not always as cool as they are now. The recent times with technological development add very high resolutions and features to the Samsung TV Sets.  From the evolving of the new era of television sets with crystal displays, Samsung offers electronic display sets, color television, smart television, digital television, internet television, Hospitality TV and Digital Signage TV. There have been lots and lots of enhancements and improvement in the features in today's LED and LCD tv sets. Today we have Samsung TV sets that have up to 4k display better than the HD displays we are familiar with, rendering pictures in a real-life quality.
The transition was a result of different television manufacturers pushing towards innovation in an enhanced display. The result is what we have today. One of such company that is popular and innovative in Television manufacturing is the Samsung Electronics Co., Ltd. Samsung offer  LCD/plasma, HD, 3D, OLED, and the Ultra HD television sets. Samsung Electronics Co., Ltd has been ranked as the world's largest consumer electronics maker.  The company has its base in the South Korean Republic. It also engages in manufacturing chips as well as high-end mobile devices even to other electronic devices and components, making it a leading competitor against other electronic brands. It is known for quality Nanocrystals long-lasting electronics including our beloved televisions. Since it ventured into the production of television sets, it has made a huge number of high-quality, durable and high definition display sets and still manufactures more you would want to own.
Let us have a look at some of the television sets produced by Samsung. As you may know, the television set for a particular standard has different product series. The features of the following are general and not series specific.
Samsung Home Led Television
The first on our list is the Samsung home LED TV also known as the active LED.
It is designed exclusively for Home is expected to revolutionize the in-home entertainment space by providing a new, sophisticated and intense visual experience to the consumers.
This next generation of Home Display technology is aimed at working professionals and affluent and aspirational millennials who prefer a cinematic experience with well-defined audio-visual content on a super-premium screen, within the comfort of their homes.
Samsung's 'LED for Home' delivers incredible visual definition along with an almost completely bespoke cinema experience where – even the display can be made to fit any unique home setting due to its modular configuration and device agnostic features.
Samsung SUHD TV
Sometimes, pushing technology forward means leaving the consumers surprised. A lot of us had only just begun to hear about 4K UHD (Ultra High Definition) televisions and understanding their uniqueness when Samsung brought in the CES 2015 with a new name – SUHD.
Though it is a new name, SUHD is not some kind of new display standard that somehow beats 4k. It simply allows a better color accuracy, a wide range of color gamut, brighter images and higher dynamic range than what was previously in the market. That sounds like a whole new feature, but it is what we previously had in better packaging.  So, in simple terms, SUHD means better picture quality and compliance with future 4K UHD standards.
A feature of the Samsung SUHD is Nano-crystal technology. LED backlights enhanced by quantum dots or Nanocrystals can expand how many colors appear, and how precious they look. They can in a way, improve TVs' color with today's sources, however, the main benefit won't be realized until broad color gamut content becomes more common over the next few years, similar to the advent of4K Blu-ray.
Samsung 4K TV
On its official website for the 4k television, Samsung has the inscription – Experience the Real 4K.
What makes 4K significant is that even with the use of ever larger TV screen sizes as well as video projectors; it provides much more detailed and less pixel visible images than 1080p. 1080p looks great up to about 65-inches, and can still look good in larger screen sizes, but 4K can deliver an even better-looking image as screen sizes continue to increase.
The increase in the usage of 4K television cannot be overemphasized. Everyone loves a television set that delivers consumers an improved video display even for larger screens. With Samsung 4k TV display sets you can be an off the for display which has smoother edges and depth. What's more? With a faster screen refresh rate, 4K TV's can deliver almost as much depth as 3D without the need to worry about glasses.
Though the demand for 4k TV's is on the increase, this does not make a 720p or 1080p TV outdated. The 720p and 1080p TV's still offer a good display which however cannot compete with the 4k display, but is still in production.
Samsung's QLED TV
Another Samsung LED TV type in the list is the QLED Television. It features an HDR 10+, which means images are individually processed, scene-scene for better visuals with dynamic tone mapping. The result of this is a inches color, deep contrast, spectacular picture quality for every scene. If there is a TV that allows you to see what the content producers intended for you to 82-inch, it is the QLED.
Samsung QLED TV in Dubai will change your expectations of what a TV can do. Available in 4K or 8K and screen sizes from 43" to 98", the QLED series was designed with options to fit any space and budget.
Due to the prolonged use of some TV brands, you may see that colors become less vibrant. QLED TVs are actually the opposite as they are built to last and provide a vibrant picture even after long periods. The use of metal alloy quantum dot pixels features inorganic materials that are engineered for durability and resistance to fading. Samsung QLED (or "Quantum dot LED") offers an unparalleled visual and auditory adventure from the comfort of your living room. Samsung 2019 QLED series was designed with options to fit any space and budget.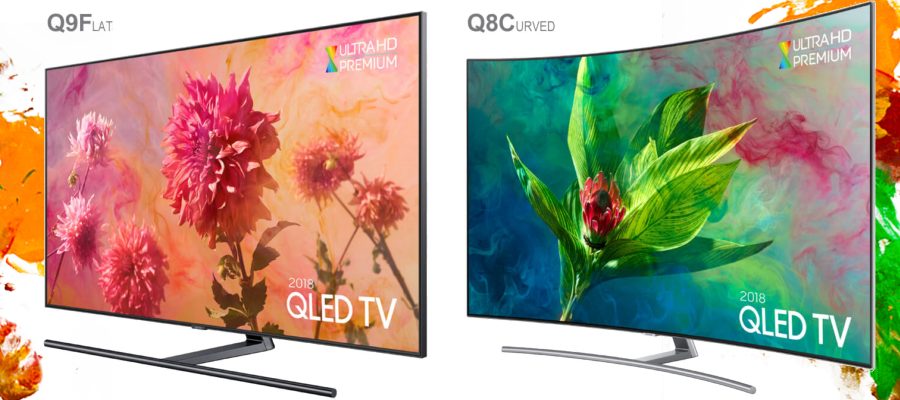 QLED TVs has a range of 75 inch and 82-inch class TVs that provide excellent screen entertainment. Immerse yourself in a cinematic experience where your favorite movies, shows, sports, and games appear real.
Samsung QLED 8K
Samsung 8K QLED delivers true-to-life picture quality. Samsung 8K TV's are best TV ever combines true-to-life 8K HDR picture quality, AI-powered intelligent upscaling², stunning design, and smart home ready features, for a revolutionary TV experience. A revolutionary more upscale remasters today's content into stunning 8K². With an exceptional depth of detail, our real 8K resolution¹ will draw you into the picture.
Samsung offers a range of TV Models larger than life 75″+ class TV's that take on-screen entertainment up a level. Immerse yourself in a cinematic experience where your favorite movies, shows, sports, and games appear larger than life.
Samsung hospitality TV
Hotel television systems are the in-suite television content presented in hotel-rooms, other hotel environments and in the hospitality industry for in-room entertainment, as well as hospitals, assisted the living, senior care, and nursing homes.
An example of Samsung's hospitality TV is the 43 inches black 477 Series Hospitality TV. This excellent product by Samsung features direct-lit LED technology uses up to 50% less energy when compared to other TV types. Additionally, the TV features Samsung LYNK HD content decryption DRM, Pro Idiom HD content decryption DRM, and Samsung LYNK REACH 4.0 content management solution. Samsung's software-based DRM technology is integrated into the entire Samsung Hotel TV line. Samsung LYNK offers a robust solution to unlock premium HDTV content from content providers such as cable, satellite and VOD providers, with maximum efficiency and security.
As a hotel owner, you can offer your guests premium HDTV content from cable, satellite or video-on-demand services with no optional cards or external box needed. Samsung's LYNK REACH 4.0 combines the importance of its SINC and REACH hospitality technologies to offer a comprehensive content management solution for hotels and other hospitality locations.
The Samsung LYNK REACH 4.0 fits into infrastructures of LAN and Wi-Fi to amplify hotel management and monitoring.
As we continue to advance technologically in the world, there are sure to be some newer and more exciting innovations both in the display as have been observed in previous years. Who knows what the next best display standard will be? We can only wait and let time do the telling.